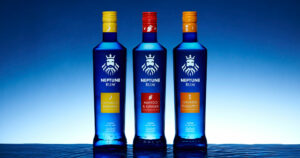 Neptune Rum's new Iconic Collection is now available at SPAR stores across England and Wales with special launch deals. 
The new Iconic Collection has been created with broad appeal and flavours profiles that make them perfect for Iced Shots, Long Drinks and Easy Cocktails. The new collection consists of 3 mouth-watering flavours at launch, including Caramelised Banana, Mango & Ginger and Charred Pineapple.
The new Iconic blue bottle has been designed to have stand out appeal and create maximum brand recognition, by being easily identifiable and understandable proposition behind bars, on shelves and online. In addition to its looks our new Iconic Blue bottles use 48% less glass compared to our Exceptional Collection, reducing energy used in manufacture, transportation, and recycling.
The new Iconic Bottles are also 100% plastic free featuring fully recyclable aluminium enclosures and film labels made from 100% wood-based renewable materials.