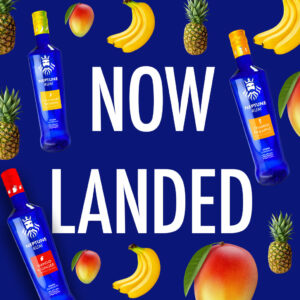 After creating 'The world's most awarded rum of 18/19' and having been awarded Best British Rum Brand, Neptune Rum has its eyes set on new future, and its's blue.
Utilising years of experience creating exceptional rums from the Caribbean Neptune Rum is delighted to announce the launch of its inclusive new Iconic Collection, made by mixing award-winning aged Caribbean rums with bursts of fruit to deliver unique taste sensation.
Not only have we developed beautifully bold liquids, made with all natural ingredients we also have a new look to match. The Iconic Collection is designed to be different with striking blue and brilliant white bottle inspired by the colours of the ocean, combined with the vibrancy of fruit.
The design language is all new with contemporary clean lines and simplified Neptune logo, which now includes a trident crown for the first time. With a clean design and unique flavours bursting with fruit, our Iconic Collection combines easy to drink flavours, style and inclusivity.
The new Iconic Collection has been created with broad appeal and flavours profiles that make them perfect for Iced Shots, Long Drinks and Easy Cocktails. The new collection consists of 3 mouth-watering flavours at launch, including Caramelised Banana, Mango & Ginger and Charred Pineapple.