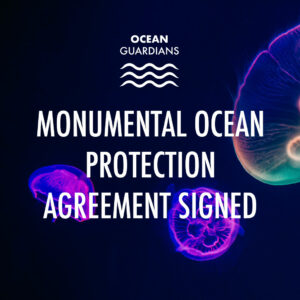 The ocean covers more than half the planet's surface, but until now it has been essentially lawless. That is why over 200 countries have agreed to a legally-binding "high seas treaty" to protect ocean life in international waters – a monumental agreement that has been two decades in the making.
This huge stretch of water – everything that lies 200 nautical miles beyond countries' territorial waters – makes up more than 60% of the world's oceans by surface area.
The treaty will provide legal tools to establish and manage marine protected areas in order to safeguard ocean biodiversity. It also covers environmental assessments of ocean activities like deep-sea mining and fishing, as well as measures to reduce marine pollution. This historic agreement offers hope for ocean conservation and demonstrates how international collaboration can be used to promote sustainability on a global scale. With this new regulation, the ocean will finally have the protection it needs from human activities that threaten its fragile balance.
"This is a historic day for conservation and a sign that in a divided world, protecting nature and people can triumph over geopolitics," Laura Meller, Oceans Campaigner at Greenpeace Nordic, said in a statement.
The ocean is still threatened by climate change, pollution, over fishing and ocean acidification. Governments, businesses and individuals must continue to work together to reduce their pollution, fishing and carbon emissions in order to protect our ocean home. Only then can we fully realise the potential of this incredible ocean wilderness and its precious biodiversity. By protecting the ocean, we are safeguarding our own future as well. To put it simply: A healthy ocean means a healthier planet for us all. Let's work to ensure ocean life thrives for generations to come.
OCEAN GUARDIANS
Neptune Rum, has been working with ocean conservation charities, groups and movements around the world and help support, both financially, awareness and activities. We strive to do all we can to protect and preserve our oceans. Together, let's make sure future generations can enjoy a healthier ocean for years to come.
Every pour, mix, and stir of Neptune Rum helps support ocean clean-up projects and incentives. Now that's responsible drinking.
Find our more about Neptune Rum Ocean Guardians.